Protect yourself in these adversarial times
This is your resource for investigative, courier, and surveillance services for criminal, personal, domestic, business, or political situations, large or small. These well-travelled individuals can save you money and help build effective cases.
Private Investigation can sometimes be a fraction of the cost of lawyer's fees.
It's Cool To Be Clever: The story of Edson C. Hendricks, the genius who invented the design for the Internet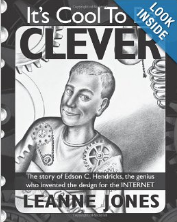 It's Cool To Be Clever tells the true story of an inquisitive boy in the 1950s who doesn't fit in at school. Edson Hendricks is bullied because he is so smart (people accuse him of getting answers from his father who is the principal) and has red hair. He finds comfort in an imaginary world where he has machine parts, and no internal organs or emotions.
Years later, Edson's strange capacity to think like a machine helps him create a new way for computers to communicate. His "connectionless" network design paves the way for today's Internet.
Catch Leanne Jones' book over at Amazon.com HERE.
True Tales from a Female Private Investigator
What is life really like on a day to day basis for a private investigator? Ever wonder what you need to do to qualify to be an investigator? Leanne Jones is an author and private investigator who lives in Victoria, British Columbia, Canada.
It is not everyday that you get to meet and talk with a real female private investigator.
Leanne talks about her life, her interest in and experience with the private investigator field.
Listen
HERE
.
Piotr Drabik's case
Last updated: 2007-05-01 by admin
Mr. Drabik who lived in Canada was last seen by his friend Pawel Brzeminski, who drove the happy Piotr to the airport. The case was delayed at the beginning more...
Testimonials
"(...) A girl named Rebecca Johnson was murdered just down the lane from our house. Her naked body was draped over the seat of the of the Salvation Army van in the church parking lot. (...)" more...